Summer Camp Programs
2017 Classic Youth Camps
A great first camp experience for those entering grades 1-3. A shortened week allows four busy days of general camp activities geared towards a young age group. Enrollment is limited in order to keep living groups small and allow for extra individual attention. Activities: arts and crafts, singing, Bible study, games, swimming.
Jun 11-14 Jul 5-8 Jul 30-Aug 2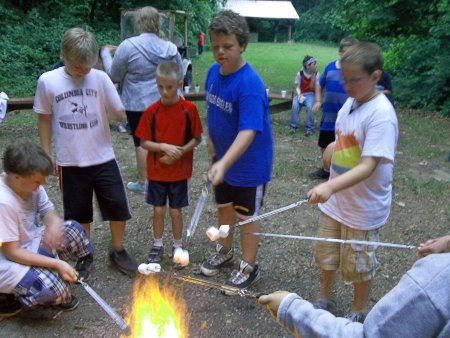 Pilgrims
A week-long experience offered for the more mature 2nd and 3rd graders who are ready for a full camp week. Activities: arts and crafts, singing, Bible study, games, swimming and boating.
Jun 11-16 Jul 30-Aug 4
A lively week packed with activities for upper elementary youth entering grades 4-6: hiking, swimming, arts and crafts, Bible study, singing, campfire programs, small group and all camp games.
Jun 11-16 Jun 18-23 Jul 16-21 Jul 23-28 Jul 30-Aug 4
A week geared for young teens entering grades 7-9, involving more advanced activities and more individual choice than for younger campers. Activities included: Bible study, canoe/hiking trips, swimming, a cookout/campout, campfire programs, and special evening activities.
Jun 18-23 Jun 25-30 Jul 16-21 Jul 23-28
2017 Specialty Camps
2017 Info Flier
A program for "learning-abled" kids who are lagging behind their peers in reading skills and "just aren't getting it." Reading camp provides a fun and innovative atmosphere where one professional teacher (assisted by a high school or college-aged "cadet") works with three students. For three hours each morning, students rotate through 6 different Reading Centers where one particular reading skill is practiced. Reading Camp is not an educational "boot camp" but true Lake Luther camp experience with swimming, boating, hiking, arts and crafts, games, music, campfire programs and a chance to make new friends. Reading Camp is a free week for those who have completed 2nd grade, are entering grades 3-4-5-6, and who come recommended by their teachers.
Jun 11-16
A special week offered at Lutheran Hills. Performing Arts Camp is for youth who love singing and performing. Campers spend 4-5 hours each day working on a high energy Christian musical. A final choreographed production is presented to parents and family members on Friday afternoon at 2:00 pm.
Jul 9-14
2017 Info Flier
A week that combines 2 hours of study with your pastor and confirmation class each morning, followed by a full day of great camp activities: hiking, arts and crafts, games, music, swimming, canoeing, kayaking, and campfire programs. Confirmation campers register as a group, coordinated by your local congregation. Check with your pastor for details.
Jun 25-30
A week for beginning guitarists who want to learn to play their favorite camp songs, refine guitar skills, or simply want to learn playing the guitar for the first time. Along with the usual great camp activities, participants spend three hours daily in class. Allie Burbrink, professional musician, will lead the program and be assisted by other guitar-playing summer staff. Participants will take home a personal copy of the LOMIK camp songbook, give a Thursday afternoon guitar concert at a local senior center, and play a concert for family members prior to Friday afternoon pickup
Jul 9-14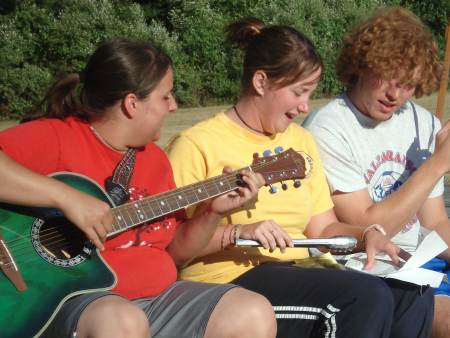 Guitar Camp
A week-long adventure based at Lutheran Hills that involves 2 days of hiking on the Tecumseh Trail, followed by 2 days of caving in southern Indiana. Participants should bring a backpack. This program is not designed as a serious athletic challenge. The focus is fun!
Jul 9-14
2017 Info Flier
A four-day camp week for younger campers (grade 1-3) where grandparents are welcome at camp. Our college-aged staff run the program. Grandparents can be a background presence with no responsibilities, just a chance to be near their grandchildren and attend meals and campfire programs with them. Grandparents stay in comfortable adult housing.
Jul 5-8
2017 Senior High Camps
A Sunday afternoon through Friday afternoon camp week that includes familiar camp activities with a "servant" theme. High school campers will assist with Habitat-For-Humanity type Humanity service projects in the Lutheran Hills area and with general on-site camp property projects. Participants must be entering grades 10-12.
Jun 25-30